Would you ever have predicted that Courteney Cox and Ed Sheeran would be performing 'The Routine' from friends for the whole world to see on social media? Us neither! In fact, we would have had a hard time believing that the friends actress and the "Thinking Out Loud" musician would have even met, let alone become really good friends!
There are actually quite a few more celebrity friendships that have taken the world by surprise, including Cardi B and Penn Badgley, whose sudden but now very real friendship was one of the biggest surprises of the last few years. Take a look at a few more surprise celebrity friendships that we would never have predicted below:
The Best Father's Day Gift Options For *Every* Dad
Shutterstock/SplashNews
Penn Badgley and Cardi B
Fans might think that this unlikely friendship was born out of the "Bodak Yellow" rapper's love of his controversial Netflix show, Youbut in fact, the former gossip-girl star made the first move, shall we say, as he complimented her for her relationship with her fans. "Despite what many might judge as antics and all this, I feel like she has an incredibly authentic relationship to that, and that's why people like her so much," he said during an interview promoting You season one.
Cardi B's reaction was *everything* as she tweeted: "OOOOMFFFFGGGGGG HE KNOWS ME !!OMMMGGGG!!!!!Yoooo like I'm famous famous." There have since been many incredible moments between the two stars, including the time they both changed their profile pictures to pictures of each other, and also the time the official Netflix Twitter account changed its bio to read: "Petition to get Cardi B to guest star in Season 4 of You!" Can you imagine?! We're grabbing the popcorn in anticipation!
Shutterstock/SplashNews
Dua Lipa and Elton John
When Dua Lipa and Sir Elton John teamed up for their "Cold Heart (PNAU Remix)" collaboration, it was the start of a (we predict) lifelong friendship. And the two haven't stopped raving about each other! "Having the opportunity to spend time with Dua, albeit remotely has been incredible," the "Rocket Man" singer gushed. "She's given me so much energy. She's a truly wonderful artist, and person, absolutely bursting with creativity and ideas. The energy she brought to "Cold Heart" just blew my mind."
And the "Levitating" singer was equally as complimentary, adding: "Ever since we first 'met' online, we totally clicked. Elton is such an inspirational artist and also has the naughtiest sense of humor – a perfect combination."
Shutterstock/SplashNews
Courteney Cox and Ed Sheeran
The friendship between the friends star and the "Shape of You" singer really took us by surprise! Since becoming BFFs, the pair regularly appear on each other's social media accounts, where they can be seen singing, dancing (most notably, recreating the iconic "routine" from Friends!) and seemingly having the time of their lives!
ed told TheDailyMail back in 2014 that they first met after he attended a party at Courteney's house, but his ride home had left without him, so he ended up crashing at her house. (We're already loving this story!) The "Shivers" singer then revealed that he stayed at Courteney's house a few months later for several months! And although he said that he didn't pay rent, he said he did "make the tea!" Oh, and we guess the fact that Ed later introduced Courteney to Snow Patrol's Johnny McDaid, who she is now engaged to, is better than any form of monetary payment!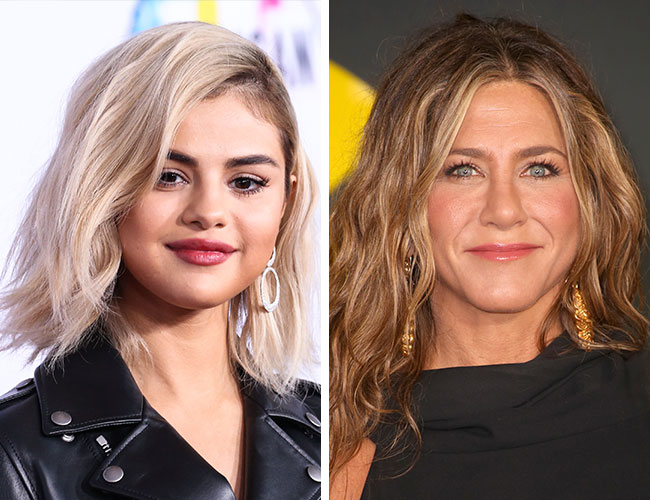 Shutterstock/SplashNews
Selena Gomez and Jennifer Aniston
Another friends star who has formed a seemingly unlikely friendship with a much younger star is Jennifer Aniston, who now regards the Only Murders in the Building actress as one of her good friends after initially meeting through their manager Allen Keshishian.
The pair have been great friends ever since, and one remarkable moment that we know about involves the women making pizzas together at Aniston's house, which sounds like a dream! But they also have a deeper connection too, as Gomez revealed that the Morning Show actress also gives her "a lot of maternal advice," which Aniston also confirmed in another interview. "Ella She's just like a little cherub that I feel like I wanna take care of," Jen told AND! News in 2014. Omg!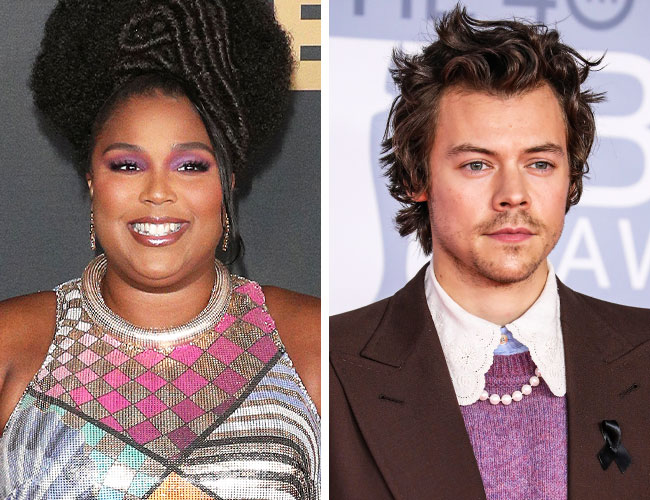 Shutterstock/SplashNews
Lizzo and Harry Styles
Lizzo and Harry Styles is the celebrity friendship we never knew we needed; and we're here for it! We ship them as BFFs perhaps even more than we ship the former One Direction singer and Olivia Wilde as a couple – and that's a lot!
You can expect to find this unlikely but now unmistakably tight duo hanging out together at all the coolest awards shows and festivals (they've been snapped at The Brits, The Grammys, and even at Coachella, where they treated fans to a performance together! ) and we have a feeling that the best is yet to come!
Shutterstock/SplashNews
Florence Welch and Blake Lively
Who *doesn't* want to be in Blake Lively's inner circle? Blake and Florence's friendship is by no means a new one, as they have been besties for well over a decade. the Age of Adelaide star was reportedly a regular in the front row when Florence and the Machine toured the US way back in 2011; however, Blake supported her in another way too – by giving her a guest starring part on Gossip Girl! Now that's friendship!
Florence returned the favor by providing the entertainment at Blake and Ryan Reynolds' wedding in 2012, which we think was a fantastic way to say thank you! Being serenaded by Florence Welch sounds like the perfect way to celebrate your love for each other, are we right?!
Shutterstock/SplashNews
Lady Gaga and Tony Bennett
Who knew that the performer who strutted her stuff in a meat dress at the 2010 MTV Video Music Awards would team up with the legendary singer for not only performing purposes, but for a genuine friendship too!
It's clear to see that the House of Gucci star and the "I Left My Heart in San Francisco" musician's chemistry goes a whole lot further than what we see on stage, and the pair have one of the most genuine and loving friendships in showbiz. And we are obsessed!
Shutterstock/SplashNews
Justin Bieber and Diane Keaton
Justin Bieber has a huge list of famous (and also non-famous) friends, including Kylie Jenner, Katy Perry, and Usher, to name just three; but we would never have guessed that Diane Keaton would also be one of his lifelong besties! Then again, we shouldn't be too surprised as she has been a very vocal stan for almost ten years, if you can believe it!
Back in 2015, Keaton admitted to having a crush on the "Peaches" singer when she appeared on The Ellen DeGeneres Show, which was quite the surprising confession! And it goes without saying, but Ellen herself has been one of Justin's earliest and biggest supporters, so we can only assume that they also have quite the budding friendship too!
.